How to buy ?
Answer: Add the required products to your cart and checkout. The "Add to Cart" Button is found on product pages.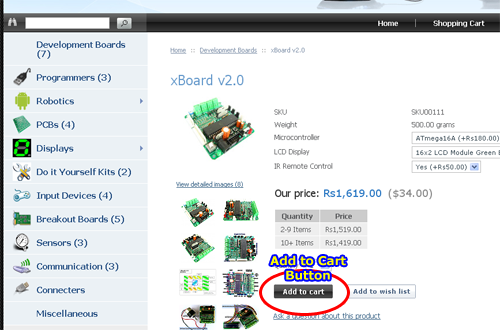 The checkout button is found on the top right side of the website.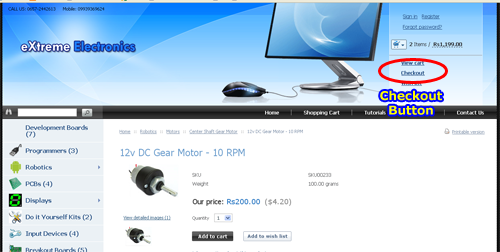 When you checkout, the website will ask you for shipping address. Enter a clean detailed address where you want the products to be delivered.
Above the Checkout button is the "View Cart" Button that can be use to view what product you have in you cart. From there you can change the quantity of each product required or delete the product at all. This feature can help you organise the cart before you place final order.
How to pay?
Answer: Currently you can pay using Debit Cards, ATM Cards, Cash Cards & Netbanking(Indian Banks). For details see this page.
How the product will be delivered?
Answer: The product will be delivered to your home or office in your hand by courier service. In some rare case you need to collect it from the courier office.
We generally use DTDC Blue which is a premium express service. But if the service is NOT available in your area then we will ship using DTDC Lite service.
After receiving payment in how much time the products will be dispatched?
Answer: If your payment is confirmed before 12:00 PM, we will try to ship the product same day in the evening. If some products are NOT in stock your order may be delayed 2-3 days. In some case we ship the products that are available as soon as we can, while out of stock items are sent when available.
Please don't request us that you have an urgent requirement therefore please process the order faster. This is because all orders are always processed at the FASTEST speed and NO more speed-up is possible.
How can I trace the motion of my parcel?
Answer: All parcels are fully traceable on web. We mail you the tracking number after 24 to 48 hours of dispatch. You can track the consignment by entering the tracking number on this website Track Parcel.
What if I don't receive the parcel after 5 days of dispatch?
Answer: You can get the address of Local DTDC office by entering your pin code in this page
http://dtdc.in/subpages/services/location_finder.asp

If NOT delivered after five days of dispatch. Contact them immediately.
After dispatch how much time it takes to reach my place?
Answer: Normally 2-6 days depending on your location. But we absolutely take NO guarantee for delay caused by courier company. Please see T & C for details.
Consignments sent with

DTDC

Blue are normally delivered in 2 to 4 days.
Consignments sent with

DTDC

Lite

are normally delivered in 3 to 6 days.
Delivery in some remote areas may take even longer.
How much is the shipping and packing cost?
Answer: Well, that depends on the total weight of the products you have ordered. The website will calculate it for you during checkout phase. Minimum shipping cost is for parcels that are below 250 gm weight and is approximately Rs. 70/- anywhere in India.
Is safe and secure delivery of items guaranteed ?
Answer: Yes, 100% safe and secure delivery is guaranteed. If product is received in physically damaged condition, please return it to use by sending it to our address and we will issue a new one upon receipt of the damaged one. Please see T & C for details.
What about the guarantee of products ?
CASE 1: The products that can function to show its working WITHOUT any Wiring, Connection, Software, Firmware from the user side are covered with replacement and money back guarantee.
For example a Development Board with a preloaded demo program can demonstrate its working without requiring any wiring or software/firmware from the user side so is fully covered by replacement and money back guarantee(within 15 days of purchase).
CASE 2: The products that require user wiring, connection, circuit building, firmware programming are NOT at all covered by any guarantee or warranty.
For example a ultrasonic module requires a user to build the following
A basic functioning

MCU

base unit.
Correct configuration of

MCU

by using Fuse bits (in case of

AVR

) or

CONFIG

bytes (in case of

PIC

) so that its core unit like oscillator is working at a known state.
Connect some other peripheral like a LCD or terminal.
Understanding and previous experience of working with

MCU

and peripheral that will be used (like a TIMER for measuring

uSonics

output)
Writing and debugging the firmware project with proper hardware and software tools.
So it is not covered by warranty. A slight mistake can damaged the module. Although we can do our best to help you do the above using detailed article we publish on your knowledge base, for example see our article of ultrasonic interfacing with AVRs.
Other example products that come under this are :-
Spare ICs and

MCUs

.
LCD Modules of all types like Text, Graphics and

TFTs

.
Motors like steppers, servos and gear motors.
Modules like SD Card Module, RFID Reader module, Ultrasonic

rangefinder

module, Accelerometer module,

RF

Module etc.
Bare PCBs and DIY

KITs

.
The above list is not exhaustive and can be changed anytime.